In our Pocket Option review today, we are reading more about the broker, the products and fees that it offers, and much, much more. The Online Pocket Options review shows that the company is a part of Gembell Limited Holding, founded by trading professionals that provide services to binary options trading on the OTC market.
The broker seems to make trading simple and convenient which is why they developed a trading platform that ensures stable trading for investors and traders. The Pocket Option review shows that there are 7 types of accounts available with a minimum deposit of $5 but there's more to it as we are going to read more in the text below.
Pocket Option offers bonuses, gifts, social trading, the ability to chart, and more. However, do all traders in the Pocket Option reviews find this broker reliable?
Pocket Option Account Types
Pocket Option offers 7 different accounts such as:
Novice trader: this is an account with a balance of less than $100 and a max transaction of $1000
Beginner: the balance is set at $100 and it provides access to express orders and other trading achievements
Experienced: this account type allows traders to increase their profitability by 2% and it has a starting balance of $1000 with a great variety of other positions on the market.
Master: this account has a starting balance of $5000 and the returns of transactions made with the 1 pip difference with an amount of $10 and a priority of withdrawals which is also available. The max transaction amount is set at $2000 but there's also a possibility for an increase of 4%.
Professional: this type has a maximum transaction amount of $3000 with more benefits including the return of transactions that were made with a 1 pip difference and an amount of $50 but also there's fast withdrawal processing and a personal manager available.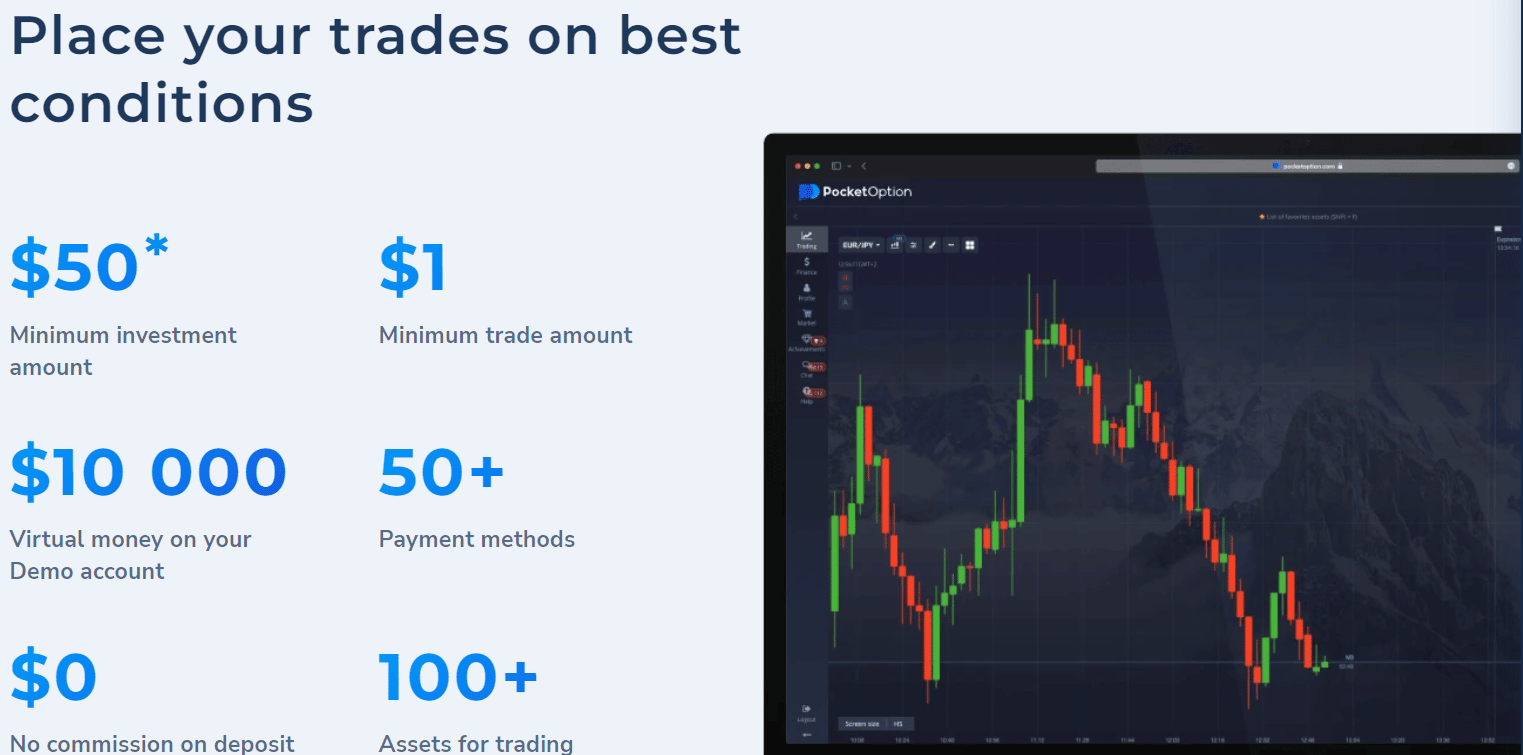 Expert: the clients that have this account will get an increase of 8% and the return of transactions made with a difference of 1 pip. The traders also have high priority for withdrawal processes but also get personal discounts and gifts. The maximum transaction amount is set at $5000.
MT5 Forex: this account is available for the Expert, Professional, Master, and Experienced profiles. There's also a demo account that will help you learn more about trading and try out strategies.
Withdrawal And Deposit Options and Fees
According to the Pocket Option reviews, the withdrawal requests are processed on queue during business hours and can take up to 3 business days.
The Pocket Option broker reviews show that the platform doesn't charge a fee for replenishment and withdrawal but keep in mind that the banks do charge a withdrawal transaction fee. There are also other options for money withdrawals like WebMoney, bank transfer, Payeer, Advcash, Perfect Money, Mastercard, Visa, and Maestro.
The minimum transaction size is set at $10. When withdrawing to e-systems, money gets credited in a moment but when using a bank transfer, the withdrawal term can reach up to 5 business days.
The client then generates a request to withdraw the funds and if the transfer currency is different from the account currency, the broker will convert it and the exchange rate will be set at the moment of the withdrawal.
The minimum deposit option on the other hand is set at $50. This level is in line with the industry average while the trade amount is $1 per trade. What's also great is that traders can deposit funds by using crypto, litecoin, bitcoin, Bitcoin cash, Ripple, Ethereum, Zcash, TEther, USD coin, DAI, and USDK.
Payouts Options
In this Pocket Options review we talked about withdrawals and deposits but what about payouts?
This broker is known for its high payouts on the market. The lowest percentage you can earn is up to 50% while the average is higher. For the high/low predictions, you could expect a payout of up to 80%.
Payouts are as high as 218% which is above the industry standard compared to other binary options companies that only allow rewards of up to 200%.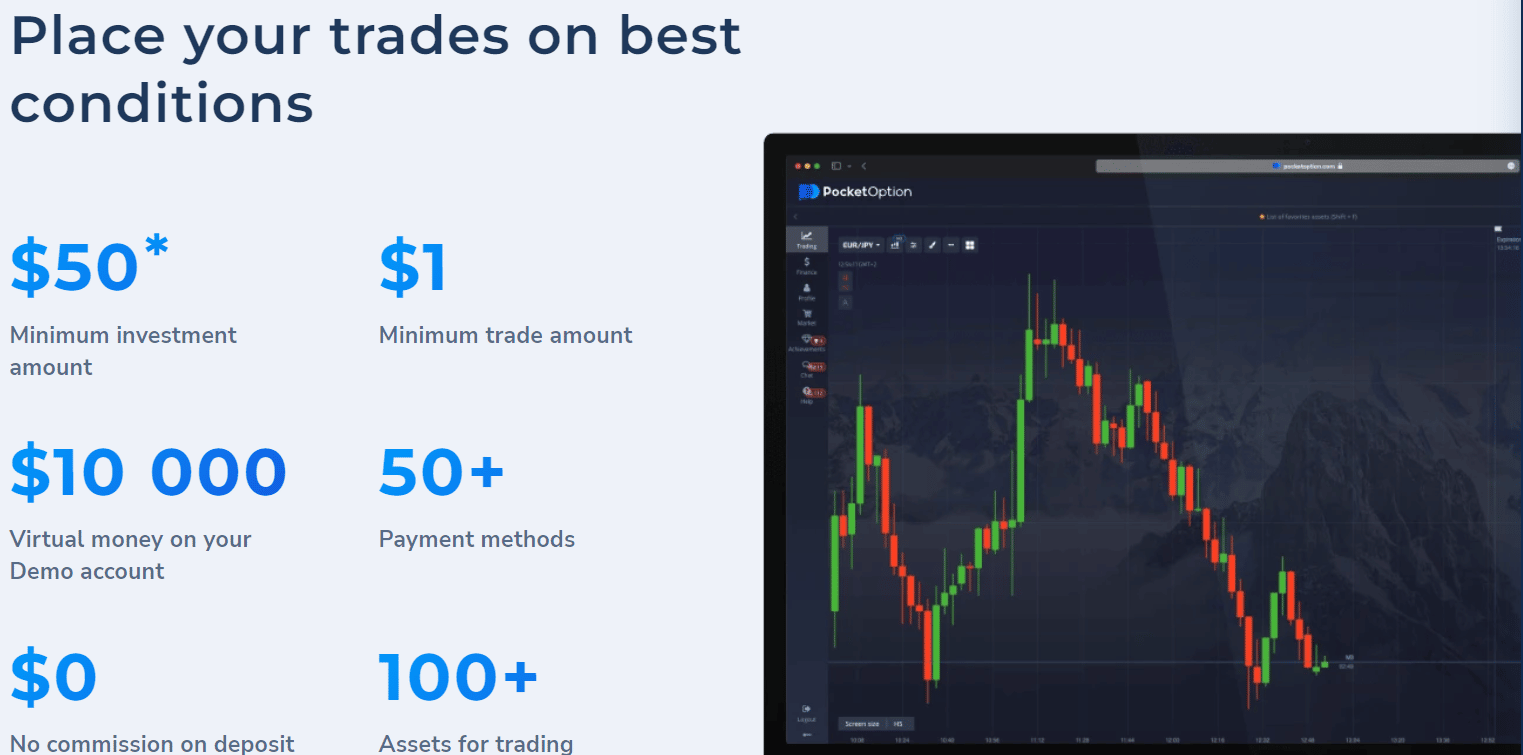 High/low trading offers higher payouts compared to other types of trading. For example, the 60-second high/low options trades can be of great benefit since they can bring bigger profits faster. Although, this type of option is quite risky.
Regulation and Licenses
The Pocket Option Review 2021 noted that the broker was regulated by the International Financial Market Relations REgulation Center. Today in 2022, we can confirm that the broker is regulated and share their license number as well which is TSRF 0395 AA Vv0141. the broker implements KYC policies and also complies with AML rules.
Bonuses & Special Features
Pocket Option offers a 50% deposit bonus when you first deposit or when you open a live account. The bigger the initial capital, the higher the bonus.
However, to claim the bonus, you will have to make a net trading turnover of about 50 times of the bonus amount so let's say you deposit $10, the 100% bonus will give you $10 extra. The net trading turnover to claim this bonus would have to be $500.
You won't be able to withdraw the bonus until you start trading and meet all criteria. Pocket Options reviews say that users are required to make a trade first since some investors think they can sign up to only withdraw a bonus.
The platform offers many additional features that will make this experience even better such as accessing a live account, tournaments, indicators, and social trading.
You can't withdraw the bonus until you start trading and meet the conditions. Pocket Option requires that you make trades first since some investors believe they can sign up to withdraw the bonus together with their original deposit. 
They offer many additional features that will make your experience even better. You can access many features with a live account, including social trading, tournaments, achievements, and indicators and signals.
What Is Social Trading?
The social trading feature is really good for beginners. It allows traders to monitor all trading habits of other investors and see which one of those makes a positive outcome. You can even mimic experienced traders to get the best results.
Also, there's an option for tournaments that allow you to compete with other traders and win prizes. This is not really like social trading because it is a competitive environment but in both instances, you can compare your performance to other traders and win prizes.
The platform also offers achievements that are similar to getting a badge to show off your trading experience. The achievements are valuable as well because you do get to see some trading benefits, earn trading funds and get bonuses.
Customer Support
Pocket Option's customer support is available 24/7 via their email address and phone number listed on the website.
You can also find them on Instagram, Twitter, and Facebook's live chat option. Also, if you don't like to chat, you can submit a form on their website and they will get back to you.
FAQ
Can you earn profits on the demo account?
The demo account only allows you to improve your trading skills and get to know the platform. You get to experiment with techniques without risks so the funds there are not actually real funds.
Is Pocket Option Legal in the US?
Yes. US customers can use the Pocket Option as it is legal in the US.
Is Pocket Option Legal in the UK?
Yes. Customers in the UK can use this platform as it is IFMRRC regulated. The FCA also regulates the online trading market which means users can trade binary options and forex.
Is Pocket Option Legal in India?
The broker is legal in India as well and has been doing well ever since 2017 when they launched their services in the country.