The cryptocurrency market is at a total capitalization of $957 billion, which is a massive dip from its $3 trillion peak. The market has suffered serious value loss, and at this point, all the crypto assets without decent standing in the market have been wiped to zero. The market will need new money to flow to gain strength and push for a bull rally. Memecoins are the best cryptocurrencies in bringing outside funds into the landscape, and Big Eyes Coin (BIG) and Shiba Inu (SHIB) are at the forefront of that.
Dogecoin (DOGE) brought in new money following its hype and support from Elon Musk. The timing was right, as there was a lot of money from the stock market. Retail traders on the stock market had just massive gains from the GameStop short squeeze. In that state of euphoria, users were looking for where else to invest money. Dogecoin had a massive pump in May 2021, and that momentum sent the whole market into a bull run.
Big Eyes Coin is showing signs of brewing momentum despite still being on presale. The token has raised around $8 million and is looking to touch $8.45 million before the conclusion of the stage 5 presale. On the other hand, Shiba Inu has had some impressive developments in the past few months.
Shiba Inu (SHIB)
Shiba Inu (SHIB) is the second largest meme coin coming only after Dogecoin (DOGE) in the cryptocurrency market. The meme coin is popular for being the best-performing cryptocurrency in 2021. Shiba Inu is an ERC-20 token that was predicted to be the DOGE killer despite being inspired by the largest memecoin. The community was able to pull strength for SHIB to surpass DOGE's market cap in November 2021, and while that only lasted for some hours, it's a tough feat for any other meme coin project to replicate.
Shiba Inu is the first meme coin to demonstrate the use of DeFi to create wealth, and the community is particular about creating utilities that promote fun. Shiba Inu has a metaverse project in development, and it hopes to bring its community together in the virtual ecosystem.
Big Eyes Coin (BIG): Not Your Typical Meme Coin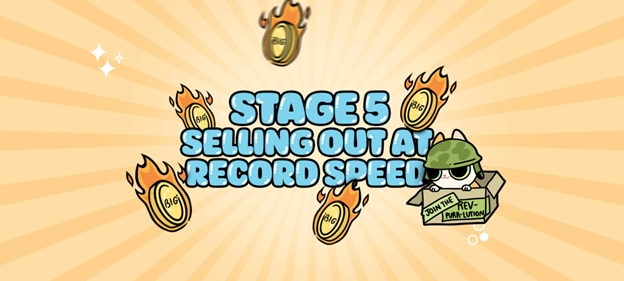 Big Eyes is an ethereum-based meme coin like Shiba Inu (SHIB) and shares other similarities in its offerings. The new Big Eyes Coin, however, does not use the dog mascot and uses a unique cat mascot in the hopes of bringing a new level of internet memes and other utilities to the market. Big Eyes Coin hopes to become the face of meme coin like DOGE has been for the past few years.
Big Eyes Coin will offer innovative DeFi features and other utilities across gaming, NFTs, and the metaverse. BIG believes it can build a powerful DeFi token with features such as yield farming, liquidity staking, and other new features that would help grow value and develop the project.
Big Eyes Coin will use a DAO model, which means holders will get actively involved with governance and be more invested in the project's growth. This governance model enables holders to create suggestions sent as proposals and vote for consensus on major decisions by the project.
Big Eyes' presale has been impressive so far, and the meme coin shows signs of a blowup. Join the presale here, and don't miss this opportunity.

Disclaimer: This is a paid release. The statements, views and opinions expressed in this column are solely those of the content provider and do not necessarily represent those of NewsBTC. NewsBTC does not guarantee the accuracy or timeliness of information available in such content. Do your research and invest at your own risk.